US: Marijuana hurled into road during high-speed chase
Comments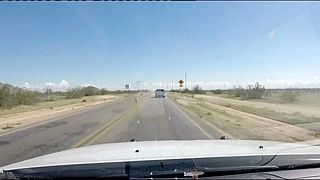 Bundles of marijuana have been thrown from a vehicle during a high-speed chase in the US state of Arizona.
The 100 mile-per-hour pursuit was captured by police dashcam, as large packages were hurled into the road.
The vehicle suffered two front flat tyres, forcing it to stop. The suspects then fled on foot.
The footage was uploaded onto the internet by the Pinal County Sheriff's office.
Around 374 pounds of marijuana was recovered following the chase, according to the office.