Ukraine: Poroshenko confirms 'significant' heavy weapon pullback by pro-Russia rebels
Comments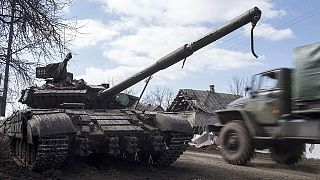 Ukraine's President Petro Poroshenko says he accepts that pro-Russian rebels have withdrawn a "significant" amount of heavy weaponry from the front-lines in the east.
Speaking in a televised interview, he also said that government forces had withdrawn the lion's share of their rocket and heavy artillery systems.
But Poroshenko added that 64 Ukrainian servicemen had been killed since the latest ceasefire was meant to come into force on February 15.
Fighting has reduced considerably, but there have been accusations of continued violence on both sides including fresh claims from Ukraine that separatists launched an attack with heavy weapons, south of the frontline, near the strategic port of Mariupol.
It demonstrates the fragility of the German- and French-brokered peace accord agreed in Minsk last month, which calls for heavy weapons to be withdrawn from the frontline, not least as international tension over Russia's support for the rebels remains.
Nearly 6,000 people have been killed since the conflict between government troops and separatists erupted last April.