Spain claims jihadist terror cell dismantled in Ceuta
Comments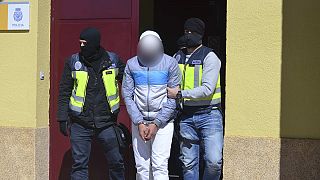 Spanish authorities claim to have dismantled a jihadist terrorist cell in the north African enclave of Ceuta.
They say it was planning to carry out an attack in Spain.
Two young men were arrested, one Spanish, the other a Moroccan.
The Interior Ministry said the early morning raids were part of the same operation in which four people were arrested in January.
"They (the suspects) have been already radicalised and indoctrinated in such a way that they are perfectly ready to commit attacks," said Spain's Interior minister Jorge Fernandez Díaz.
Police say the two arrested men had access to firearms and had been actively following the Islamic State group on the internet.
The ministry says the six men held in the two operations in Ceuta this year had profiles similar to those involved in the Paris terror attacks.
Spain has made more than 20 arrests of suspected Islamist militants since September.