Round-the-world solar plane arrives in India
Comments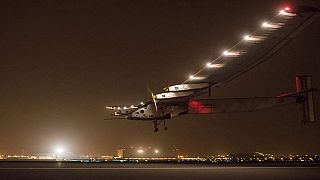 Solar Impulse 2 has touched down in India, completing the second leg of its record-breaking round-the-world attempt.
The solar-powered plane arrived in Ahmedabad after flying 15-hundred kilometres from Muscat in Oman – a journey of just over 15 hours.
Solar Impulse 2 has ten more legs ahead of it. The plane is expected to take five months to fly around the globe, crossing continents and the Pacific and Atlantic oceans.
The plane, piloted by two Swiss aviators, has a wing span larger than a jumbo jet, but weighs around the same as a family car.
The next stage of the attempt will take the duo to Varanasi in northeast India.