US tanks and military equipment arrives in Latvia for training mission
Comments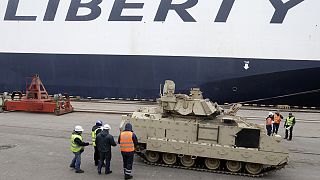 US tanks and other military equipment has arrived in Latvia, as part of a training mission aimed at bolstering support for NATO allies – worried about escalating Russian aggression.
The alliance's top military commander said in January that exercises in the Baltic Sea region would be beefed up – after a surge in Russian manoeuvres late last year.
"We, as the receiving country, practice offloading vehicles from ships, distributing and transporting them around Latvia and the Baltic states," said Raimonds Vejonis, Latvia's defence minister.
"It is crucial, so that we are ready in case NATO's Article 5 is implemented."
A US combat team will also flow in for exercises in Latvia, Estonia and Lithuania.
It comes as hundreds of reconnaissance workers from Russian regions train in the mountains of North Ossetia.
Around 150 former Ukrainian soldiers, who are now involved in military service in Crimea, have been taking part in the drills.
NATO says Russia continues to provide aid for pro-Moscow separatist fighters in eastern Ukraine, hampering prospects for peace talks. Moscow denies giving any material help.