Police killing of black teen sparks US protest
Comments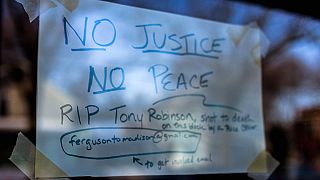 Demonstrators in the American state of Wisconsin gathered in Madison on Saturday (March 7) to protest the death of African American teenager Tony Robinson.
Carrying banners and signs reading 'Justice 4 Tony' and '5 Shots 5 Times Unacceptable,' they chanted "Black lives matter" and "The whole damn system is guilty as hell" as they walked from Dane County Public Safety Building to the house where the shooting took place.
The unarmed 19-year-old was shot and killed by a police officer on Friday (March 6), in the state capital, Madison.
Robinson's death comes at a time of growing scrutiny of police use of lethal force against minorities, the poor and the mentally ill.
But Madison Police Chief Mike Koval cautioned against a rush to judgement: "He was unarmed and that's going to make this all the more complicated, for the investigators, for the public to accept, to understand, and to wait patiently for what other circumstances, if any, were there that were attendant to this scene, such that deadly force had to be used."
The shooting occurred at an apartment in Madison after a white police officer entered the home and was knocked down by a blow to the head.
Out-of-area authorities will oversee the investigation as required by a new law enacted last year.
Last year, the death of 18-year-old Michael Brown in Ferguson, Missouri, triggered nationwide demonstrations against the excessive use of force by US law enforcement.