International Women's Day shines spotlight on female rights
Comments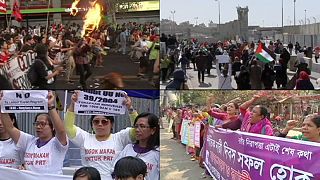 International Women's Day is being marked around the world with various events and demonstrations.
The aim is to raise awareness of discrimination against females and to boost rights.
In the run up to the day, hundreds of women took to the streets of Chile's capital Santiago – calling on the government to legalise abortion, end discrimination and
provide more equal opportunities.
Forty years after a brutal dictatorship, Chile remains firmly conservative.
"I'm here to defend the right to decide. From the way we dress to what we do with our bodies, this is our right," said one female demonstrator.
In the Aghan capital Kabul, Kubra Khademi donned body armour in a bid to end discrimination.
She said she recalled thinking "I wish my underwear was made of iron" after she was molested in the street as a child.
Men have also donned burqas in Kabul – clothing that, for many, have come to symbolise the suppression of women.
Female rights are developing in Afghanistan, but the pace of change is slow and fear of change remains deeply entrenched.