Greece could call referendum if debt plan rejected, warns finance minister
Comments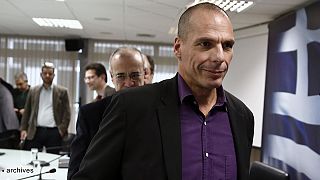 Greece could call a referendum or hold early elections, if eurozone partners reject its debt and growth plans.
Finance Minister Yanis Varoufakis has given the warning in an interview with an Italian newspaper.
"There could be problems. But, as my prime minister has said, we are not yet glued to our chairs. We can return to elections, call a referendum," he told Italian daily Corriere della Sera.
The new Greek government, led by Alexis Tsipras, came to power promising to renegotiate a bailout which demands sweeping economic reforms.
It reached a temporary deal with its lenders last month.
Athens has until the end of April to specify the reforms it will make in exchange for further aid.
Most Greeks want the country to keep the euro, but two thirds also back the government's push to renegotiate the bailout package.
A referendum over a deal with lenders that keeps the country in the eurozone but falls shot of Tsipras' promises could give the government cover to accept a deal, even though it was elected with a different mandate. But even floating the idea of a referendum is politically risky.
Eurozone finance ministers are meeting on Monday (9 March) to discuss a letter of pledged reforms sent by Athens last week.