Chad and Niger launch joint campaign against Boko Haram
Comments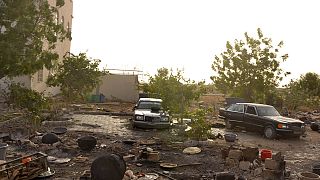 Chad and Niger have launched a joint military operation against Boko Haram in Nigeria.
The Sunni militant group has expanded cross border raids, spurring Nigeria's neighbours to retaliate.
The new military campaign comes after suspected Boko Haram insurgents killed at least 50 people in bomb attacks in Maiduguri – the city it wants as the capital of an Islamist state.
Almost six years into its insurgency in Nigeria, the militant group is now attacking villages in the countries bordering Lake Chad – Chad, Niger and Cameroon. Local officials say the motive is greed, not a drive to establish an Islamic caliphate.
In Chad, Boko Haram is said to be behind destruction in the village of N'gouboua – its first attack inside the country. Militants apparently opened fire on residents and burned their homes.
Boko Haram has pledged allegiance to ISIL, which rules a self declared caliphate in parts of Iraq and Syria.
Nigeria is now pleading for more international help to battle the militancy.