Tina Maze and Anna Fenninger's rivalry hots up ahead of final World Cup downhill race
Comments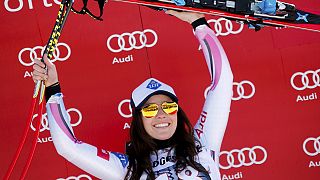 Tina Weirather took the honours at this season's penultimate World Cup downhill race held at Garmisch Partenkirchen. The 25-year-old from Liechtenstein, whose career has been plagued by injury, celebrated her first career win in the downhill.
She completed the run in one minute 40.94 seconds which was 0.51 ahead of Anna Fenninger.
Her victory shifted the focus off the intense rivalry between Fenninger and Tina Maze for the season's honours.
This was the first time in five races that Anna Fenninger had failed to win but she admitted the main thing was to finish ahead of the 2013 big globe winner, Tina Maze which she has done repeatedly in recent weeks.
"There is nothing like a fight like this to give you motivation. You must never say never but it's still going to be a close decision," she said finishing 0.40 seconds ahead of Maze and narrowing the gap in the overall standings to just 24 points.
After finishing third the Slovenian skier said, "Anna skis much too well right now. But I'll keep fighting until the end. This is a great chase."
Lindsay Vonn was sixth. The American is bidding for a seventh crystal globe in the downhill and still leads the Austrian by 39 points. It's all down to the last race of the season at Meribel at the end of the month.