Red Bull X-Fighters World Tour opens in Mexico City
Comments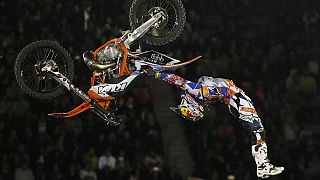 They are used to bull fighting down Mexico way in the city's Monumental Stadium. And the bulls on show for the capacity 38,000 crowd were red – the Red Bull X-Fighters World Tour.
This is moto-cross with with tricks, flicks and flying and the surprise winner in Mexico was Clinton Moore. The Australian had never won a round before but this time he had some big tricks. There was the Bundy body varial and a Flair off the quarter pipe squeezed into one run.
He edged out former world champion Levi Sherwood who wrote history by landing the first Transfer Flip ever completed in a competition by the narrowest of margins. They'll be revving up the tricks in the next round in Athens in June.