Nigeria: Dozens killed as blasts hit former Boko Haram stronghold
Comments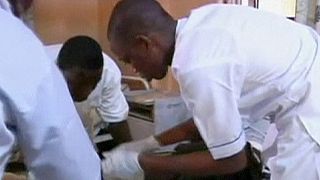 At least 50 people have been killed, and many more wounded, after four bomb blasts rocked the flashpoint Nigerian city of Maiduguri.
The explosions hit busy areas of the city over four hours.
In the deadliest attack, a suicide bomber blew himself up at the entrance to a bustling fish market, claiming 18 lives.
Maiduguri is the birthplace of Boko Haram. Its fighters have been trying to seize the key city, but have so far been repelled.
There was no immediate claim for Saturday's attacks, but they bore the hallmarks of the group – which is seeking to create an Islamic state.
Boko Haram has recently stepped up suicide bombings and village attacks.
It has come as forces from Nigeria and Chad have driven the insurgents from a string of towns along the border with Cameroon.