Man rescued after attempting to walk from US to Canada across frozen lake
Comments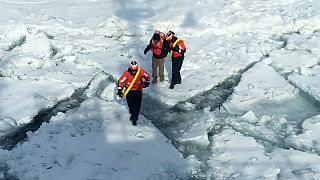 A 25-year-old man has been rescued after apparently trying to walk from Detroit to Canada across a frozen lake.
Coastguards spotted the man on Lake St. Clair, around 2.4 kilometres from the shoreline. The lake borders the United States and Canada.
A spokeswoman said the walker was suffering from hypothermia and was disorientated.
The man, who has not been named, appeared to be carrying only personal items.
He told rescuers that he was trying to walk to Toronto, more than 300 kilometres from Detroit and just over 280 kilometres from the eastern edge of the lake.