Mali: French citizen and Belgian security worker killed in militant attack
Comments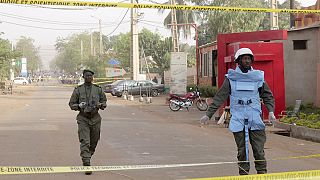 Five people, including a French citizen and a Belgian security worker, have been killed in a militant attack in the Malian capital Bamako.
Police say one of the attackers opened fire at a restaurant, popular with expatriates.
A Belgian man was then shot outside his house, before a grenade was thrown at a police vehicle, killing the driver.
The attack – launched in the early hours of Saturday – also left nine others wounded.
Two people have been arrested, according to security officials.
"They were wearing turbans," said one witness.
"I ran away, I did not even try to understand what was going on. I ran away. It was only after their departure that I came back."
Another man added: "Everybody is concerned, everybody is affected by this. Mostly the expatriates, but it could be anyone. It's horrible."
Mali's desert north is plagued by frequent political violence, but this is the first militant attack in Bamako for years.