ISIL militants bulldoze ancient city of Hatra
Comments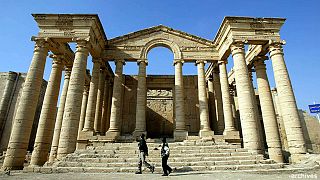 Islamic State militants in Northern Iraq have reportedly destroyed ancient ruins of the 2,000-year-old city of Hatra.
Hatra lies about 110 km south of Mosul, which has been under the control of the Islamic State since June.
Residents in the area told Iraqi tourism officials that the militants had used explosives and bulldozers to demolish the sprawling archaeological site on Saturday (March 7).
The militants destroyed remains of the ancient Assyrian city of Nimrud on Thursday (March 5), an action that drew worldwide condemnation.
Suzanne Bott, Project Director for Iraq and Afghanistan Heritage Conservation at the Drachman Institute, University of Arizona, said she is disappointed more wasn't done to ensure the protection of Iraq's ancient heritage.
"My hope was that the US forces, or the coalition forces, would make note of Nimrud and Hatra and Nineveh, but cultural heritage does not rank high on the priorities scale."
Last week, the militants released a video of them smashing priceless Assyrian and Hellenistic statues and artifacts at the Mosul museum.
The United Nations cultural agency UNESCO has called the actions "cultural cleansing" and said they amount to war crimes.