Boko Haram pledges allegiance to ISIL
Comments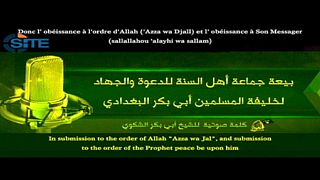 Nigeria's Islamist militant group Boko Haram has pledged allegiance to ISIL.
The announcement came in an audio message posted online where the leader of the insurgents Abubakar Shekau purportedly pledged allegiance to the Islamic State group which currently rules a self-declared Caliphate in parts of Iraq and Syria.
"We announce our allegiance to the Caliph…and will hear and obey in times of difficulty and prosperity, in hardship and ease," the statement read. It continued asking all Muslims "to pledge allegiance to the Caliph".
The move comes as no surprise with Boko Haram being the latest of a string of jihadist groups who have pledged allegiance to ISIL. Analysts point to the group mimicking ISIL methods in its propaganda and violence. This month Boko Haram released a video which appeared to show the insurgents beheading two men, with similar graphics and editing techniques as those used by the Islamic State group.
The audio recording has confirmed the Nigerian government's fears and prompted it to appeal to the international community for more help to battle the extremists.
During their six-year insurgency Boko Haram has killed more than 13,000 people and displaced more than 1.5 million in their campaign to establish a Caliphate in northern Nigeria.