At least 50 killed in multiple blasts in key Nigerian city
Comments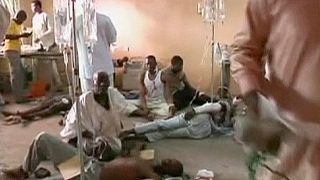 At least 50 people are reported dead after three blasts rocked the key northeast Nigerian city of Maiduguri.
One bomb is said to have gone off near a fish market.
Another blast then hit an area known as Monday market, before a car bomb exploded by a bus station.
It is the worst spate of violence since suspected Boko Haram militants failed in a bid to seize the Borno state capital in January. They were repelled in fighting that left more than 100 people dead.
Boko Haram has its sights set on Maiduguri as the capital of an Islamic state they are looking to carve out.