Harrison Ford 'battered but OK' after crash landing plane
Comments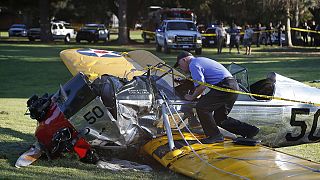 Hollywood actor Harrison Ford has suffered moderate injuries when he crash landed a plane on a Los Angeles golf course, according to local media.
The vintage World War II training plane struck a tree as it went down shortly after taking off from a local airport.
An audio recording said to be of Ford reporting engine failure has emerged online.
The Assistant Los Angeles Fire Chief said that the sole occupant was conscious and breathing before being transported to a local hospital for treatment.
Best known for his roles as Indiana Jones and Han Solo in Star Wars, the 72-year-old is a seasoned pilot.
In 1999 he was involved in another air accident, when he and a flight instructor went down in a helicopter crash north of Los Angeles.
Tweeting from the hospital he son said Ford was 'battered but OK'.
At the hospital. Dad is ok. Battered, but ok! He is every bit the man you would think he is. He is an incredibly strong man.

— Chef Ben Ford (@ChefBenFord) March 6, 2015
The news was also greeted by an outpouring of support from fans wishing him well with the phrase 'May the force be with you', the iconic line from the Star Wars films.
Former 'co-pilot', Peter Mayhew who played Chewbacca to Ford's Han Solo tweeted his astonishment at the news that the actor's condition reported in the media went from critical to fair in just 60 minutes.
From Critical > Severe > Moderate > Fair in the span of an hour. Is #HarrisonFord Han Solo or Wolverine? #NeverTellMeTheOdds

— Peter Mayhew (@TheWookieeRoars) March 6, 2015