France: Experts reveal discovery of Celtic prince tomb
Comments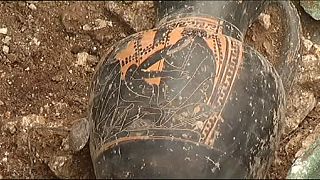 What is believed to be the tomb of a Celtic prince from the 5th century has been discovered in the Aube region of eastern France.
It was uncovered last October, but has only just been made public. According to experts, the burial site is relatively well preserved.
The gender of the suspected royal has not yet been fully confirmed, as the skeleton has only been partially uncovered.
But given the presence of a long bronze sword found in its sheath, "we're probably talking about a local Celtic prince," said Dominique Garcia, head of Inrap, France's national archaeological dig institute.