Liberia discharges 'last Ebola patient' from medical care
Comments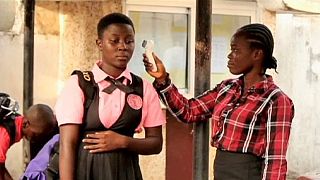 Liberia has discharged its last confirmed Ebola patient from medical treatment in a key landmark in the country's battle against the deadly virus.
There have been no reports of new cases in a week in Liberia which, just days ago, officially reopened its schools following a seven month shutdown to prevent Ebola spreading.
A total of 42 clear days are needed for 'Ebola-free' status to be officially declared, according to WHO guidelines.
Those on the frontline say there is no room for complacency.
"For me, this is the moment, the most dangerous moment, and the most critical moment in an outbreak because the cases are going down and down and down, days after days, and people start to relax, and this is when we get accidents," said Ivan Quentin, a water and sanitation expert with international medical charity Medecins Sans Frontieres (MSF).
Senegal, Nigeria and Mali have all conquered the deadly virus and Liberia looks poised to become Ebola-free. But the cost has been high.
The year-long epidemic has killed nearly 10,000 people in Liberia, Guinea and in Sierra Leone.
In both Guinea and Sierra Leone, more new cases were recorded last week than in the previous seven days.
In efforts to try to stem the spread, Sierra Leone has imposed new restrictions such as a night-time curfew on unloading goods from commercial vehicles and limits on water transport.