Separatists accuse Ukraine troops of blockading rebel regions
Comments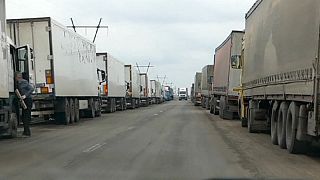 Civilians living in separatist held areas of Ukraine are accusing government troops of creating an economic blockade.
They say food and other essentials are being delayed or even stopped from getting through to people whose lives have already been shattered by months of shelling.
Colonel Volodymyr Kachanovetsky said it's all a matter of security:
"This is first of all for the safety of the citizens who live in the territory. It is also to prevent the passage of saboteurs or certain citizens who can provide information to illegal armed groups about the actions of our soldiers or about the general situation in Ukraine."
Locals say the situation on the ground doesn't reflect the fine words uttered at the signing of the Minsk ceasefire:
Lorry driver Ihor Suleiman laid the blame on government soldiers:
"There are problems with food because they (Ukrainian soldiers) don't let it through. It's them, who separate us. Perhaps they don't understand, but they are making people angry and alienating them."
Panic in Western Ukraine as food shortages hit stores! #donetsk#Zakharchenko#debaltseve#mariupol#kharkiv#kyivhttps://t.co/Ky6DU8UWJB

— Hermius (@Hermius1) March 4, 2015
With essentials in short supply Moscow says it is sending tonnes of aid but Kyiv accuses it of bolstering up its troops.
Later this week, Ukraine's parliament is expected to back President Poroshenko's request for international peacekeepers to monitor the conflict.