LAPD under scrutiny after police officer guns down mentally ill man
Comments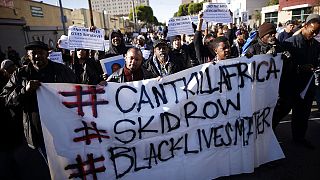 Skid Row, in downtown Los Angeles is an area of the city where a 39-year-old homeless man was shot dead by a police officer over the weekend. Around 1,000 homeless people with mental health issues call live here on the streets.
Critics say the shooting highlights inappropriate tactics routinely used by police.
"We need more mental health training," points out Skid Row resident and community organiser Jeff. "If it's not going to be for the police officers then we need to bring in health care professionals that are side by side with LAPD so that we can address the issue."
Sunday's shooting is the latest incident to put police forces under scrutiny over the use of lethal force against minorities, the poor and mentally ill.
Meanwhile the US Justice Department has said the police department in Ferguson, Missouri routinely engages in racially biased practices.
That's the conclusion of an investigation started after a Ferguson officer gunned down unarmed black teenager Michael Brown last summer.