'Illegal' Albanian migrant receives top award at French parliament
Comments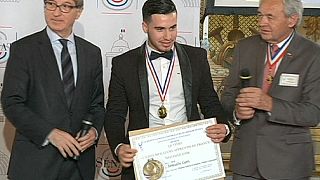 He has been named one of the best apprentices in France.
If you have the willpower and the courage...you can do anything
But threatened with expulsion from the country, young Albanian migrant Armando Curri was initially turned away from a ceremony at parliament's upper house before organisers had a change of heart.
As a result he was allowed to attend the prize-giving at the Senate in Paris where he received a winner's medal.
Curri had already persuaded those mentoring him to give him a chance as he took his first steps in carpentry.
"If you have the willpower and the courage…you can do anything," he said.
"The boss saw that I had courage. That is why he hired me because I didn't speak very good French."
Now appealing against his expulsion order, Armando has been welcomed to one of France's most important buildings – the Senate – with open arms.
"I looked at this case yesterday when I arrived and, after informing the administration at the Interior Ministry, I took the decision to receive this young man because he is a symbol of success and also because he is supported by his mentors and the label 'France's Best Worker' represents certain values," said French Senate President Gerard Larcher.
And the 19-year-old has been granted a three month temporary residency permit – enough to fuel more dreams for the future.
.
"I can see that there is gold everywhere," Curri said, looking around the impressive Senate building.
"It's completely beautiful. Its wonderful. I would like to do something like this myself, perhaps later."