Iraq begins push to take back ISIL strongholds
Comments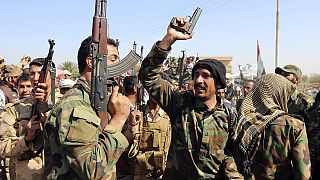 Iraq's armed forces have begun a campaign to push ISIL militants out of the mainly Sunni Muslim province of Salahuddin, north of Baghdad.
The Iraqi government's ultimate goal is to take control of the area and reverse the balance of power.
Saddam Hussein's former hometown of Tikrit lies in the region and is currently under the control of the jihadists. But the government troops, backed by Shi'ite militia, are said to be advancing and claim to have bombarded ISIL positions within the city.
Iraq's prime minister, Haider al-Abadi, announced the start of the offensive on Sunday (March 1) during a visit to the government-held city of Samarra, which lies north of the capital, in the Sunni triangle.
"Our goal is to liberate people from ISIL's oppression and terrorism," he said. "We should protect the citizens and their properties."
Some 30,000 troops and militia are believed to be engaged. It is the biggest military operation in the province since Sunni Islamist radicals seized large areas of northern Iraq in June 2014, before advancing towards Baghdad.