Indian rapist says women to blame for being sexually assaulted
Comments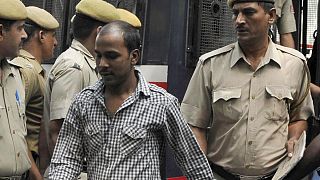 Indian women have only themselves to blame if they venture out at night and attract the unwanted attention of others, says one of the men convicted in the 2012 Delhi gang rape.
Mukesh Singh was the driver of the bus the night Jyoti Singh boarded with her friend after a night out at the cinema. The 23-year-old was raped and beaten with iron bars. She later died from her injuries in an incident that prompted widespread demonstrations across India and outrage around the world.
Speaking in an interview for a BBC documentary, Mukesh Singh says a girl is far more responsible for rape than a boy.
"A decent girl won't roam around at 9 o'clock at night. Boys and girls are not equal. Housework and housekeeping is for girls, not roaming in discos and bars at night doing wrong things, wearing wrong clothes. About 20 per cent of girls are good."
Had Jyoti not put up a struggle she would still be alive, he said.
"When being raped, she shouldn't fight back. She should just be silent and allow the rape. Then they'd have dropped her off after 'doing her', and only hit the boy."
Singh who denies involvement in the attack has been sentenced to death but is appealing the verdict.
"The death penalty will make things even more dangerous for girls," he says. "Before, they would rape and say, 'Leave her, she won't tell anyone.' Now when they rape, especially the criminal types, they will just kill the girl. Death."
Singh's lawyers expressed a similar view about women who go out at night while defending the gang in court.
Defence barrister AP Singh said: "If my daughter or sister engaged in pre-marital activities and disgraced herself and allowed herself to lose face and character by doing such things, I would most certainly take this sort of sister or daughter to my farmhouse and, in front of my entire family, I would put petrol on her and set her alight."​
Leslee Udwin, who made the programme for the BBC's Storyville entitled India's Daughter, said: "My encounter with Singh and four other rapists left me feeling like my soul had been dipped in tar, and there were no cleaning agents in the world that could remove the indelible stain."