Fenninger does the double as Hirscher stenmarks his rivals' cards
Comments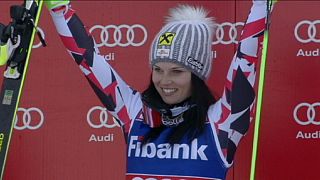 Over the Line
"Welcome to Gravity, our weekly Alpine Skiing magazine," says euronews's Vincent Menard, "which this week starts with the latest duel between snow queens Anna Fenninger and Tina Maze. The Austrian has added Sunday's Super-Combined at Bansko in Bulgaria to her bag of title, fighting off the Slovenian and gaining precious points in the overall World Cup race."
Super-Combined
The women's World Cup is super-tight this year between the past two previous winners, Anna Fenninger and Tina Maze.
But it was Fenninger who got the double drop on her rival on Sunday, taking the Super Combined in a foggy Bankso, Bulgaria, to make up some ground on overall leader Maze.
Having pocketed the Giant Slalom she then went out and smashed
it in the slalom, with Maze again having to settle for second-best.
Maze did not do anything wrong, it was just that Fenninger was too fast, but the Slovenian is the only female skier who this year has entered every race, and she admitted to feeling exhausted after her tough weekend.
At the Summit
Vincent Menard:
"A two-second lead after the first leg and a winning margin of over three spelled out the domination of Marcel Hirscher at the Giant Slalom in Garmisch-Partenkirchen, one of the most emphatic victories you'll ever see."
Super Giant
Austria's Marcel Hirscher won the latest World Cup giant slalom
race in style with a winning margin not seen on the slopes for 36 years. For his fifth Giant win of the year he demoralised the opposition with an over three-second winning margin, not seen since the days of the great Ingemar Stenmark, the only man still quicker than Hirscher after beating that winning margin time twice in the 1978-79 season.
Hirscher put the win down to new equipment he was testing, which he swore was gaining him time at every gate. Who would want to argue after such a run.
Certainly not second-placed Felix Neureuther or the third-placed veteran Benjamin Raich, who turned 37 this weekend and whose posters once adorned a young Hirscher's walls.
Analyse This
Vincent Menard:
"This latest win for Hirscher means he takes another step towards the World Cup Crystal Globe, but no-one's ever won the title four times in a row before. Former champion Franck Piccard is an admirer…"
"I like this skier a lot because he's not especially physical, and yet he's exceptional in the slalom. His size isn't a factor, but his speed is. His ability to read a line and let his skis follow it is great, and perfect for the Giant Slalom as well, which I suppose is his favourite," says Piccard.
"He's made for the Giant with his skiing ability, the way he sets himself, gaining speed through his combined turns. I really like watching him ski. I have no idea if one day he'll be able to take on the speed events, the downhill or Super-G, but he's probably very talented for the latter, too.
His problem is that in Austria there's a wealth of speed skiiers, so it'll be hard for him to win a place."
Skiing Past
Vincent Menard:
"On the 21st December 1998 at Igls in the heart of the Tyrol, on the heights of Innsbuck legend Hermann Maier skied to one of his 54 World Cup victories.
It was here the former brickie scored his best time in his favourite event, the Super-G. So much, so remarkable. But when the last time was recorded the field was stunned to see nine Austrians filling the top spots, an unprecedented domination and a new record, beating France's top six set in Abetone, Italy, thirty years previously."
It's Snowtime
Vincent Menard:
"Next weekend it will be the turn of the speed events, for the women as well as men. It'll be on Gravity, and until next time, as usual, it's Snowtime! , some of the week's most compelling pictures."