Estonia votes in election amid concerns over Russia
Comments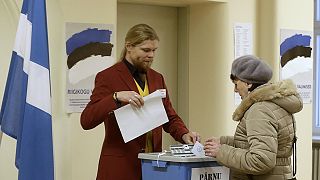 Estonians are voting in a parliamentary election with centre-right Prime Minister Taavi Roivas the favourite to form a new pro-Nato coalition and fend off an opposition party that wants better ties with neighbouring Russia.
Roivas' (35) has stressed fears of Russian interference in Estonia after Moscow annexed Ukraine's Crimea region last year. A free-marketeer, he is likely to be well placed to form a new coalition even if the Centre Party wins more votes.
Other big parties have refused to work with the Centre party which signed a cooperation deal with Putin's United Russia Party in 2004. They have accused the leader, Edgar Savisaar, the mayor of Tallin of failing to condemn Putin's actions in Ukraine.
Kremlin-critic Gary Kasparov announced his dismay that the Centre Party were leading going into the vote saying, "You may not believe it but a pro-Russian party is leading the polls in Estonia".
The vote may be more a battle for the status quo with centre-right coalitions having ruled more or less constantly since 1999.
Partial results will be published at 18:00 GMT but the full picture will not be known until midnight.
Online voting made a new e-record with many taking the opportunity to vote early. Voting stations opened at 9am and will close at 8pm local time.
New e-record in E-Eesti. 176 491 citizens voted online on early elections for @Riigikogu#valimised2015@estonia_eupic.twitter.com/EnMZyY1hqn

— Amb Victor Guzun (@victorguzun) February 26, 2015
You can follow the elections on Twitter with the hashtags #estelections and #valimised2015.
@eop_aegee first voters at 9.00 #estelections@ElectionsLivepic.twitter.com/4sSA2GHEbb

— Cono Giardullo (@conogiardullo) March 1, 2015
Election observation in supermarket - it is possible only in Estonia! #EOMEstoniapic.twitter.com/XYH7S5YYeo

— viktor (@vityawassup) March 1, 2015