Astronauts go on spacewalk for new work on ISS
Comments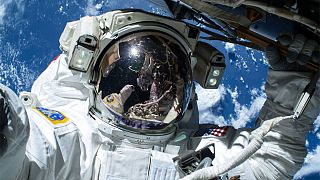 New work is being carried out on the outside of the international space station in preparation for the eventual arrival of new commercial space taxis.
Two US astronauts have made their third spacewalk in a week to install communication and navigation equipment.
Images from NASA showed Barry Wilmore and Terry Virts during a seven-hour spacewalk.
The ISS is preparing for the eventual arrival of spacecraft being developed by Boeing and SpaceX.