Argentine judge dismisses allegations against president
Comments
By
Euronews
with
Reuters, Daily Telegraph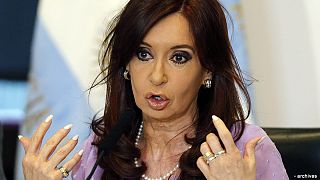 An Argentinian judge has dismissed allegations that President Cristina Fernandez was involved in trying to cover up Iran's alleged involvement in the bombing of a Jewish centre 21 years ago.
The case was to have been brought by prosecutor Alberto Nisman, but hours before he was due to make his allegations in Congress last month he was found dead in his Buenos Aires apartment.
Nisman died from a bullet to his head and a gun was found by his side.
President Fernandez had denied his allegations and called them absurd, claiming he had been duped by rogue security agents trying to smear her.
But the events surrounding the death of Nisman brought hundreds of thousands of Argentinians on to the streets, many questioning the independence of the country's judiciary.
Another prosecutor is expected to appeal the judges decision to dismiss Nisman's claims about Hernandez.
85 people died and over 300 people were injured in the bombing of the Jewish centre in Buenos Aires in 1994. Iran has always denied any involvement.