Rival military exercises deepen anxiety in Baltic states
Comments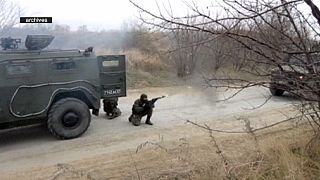 Russia's military exercises close to the border with several eastern European nations have raised fears of a possible invasion of the Baltic region.
Reports say Moscow sent around 2,000 paratroopers to an area close to Estonia and Latvia this week.
But some military experts say the drills are nothing more than a distraction from the separatist war in eastern Ukraine.
Russia's activity in the Pskov region has certainly unnerved former Soviet states in the Baltic. On Tuesday, Lithuania reinstated military conscription for 19 to 26-year-old men.
Lithuanian and US troops conducted joint exercises on Wednesday at the country's Pabrade training grounds.
Officials say the drills were a gesture of reassurance for NATO members in the Baltic.
NATO troops also took part in rival exercises close to Estonia's border with Russia on Wednesday.
A military parade was organised with armoured personnel carriers, tanks and around 1,300 soldiers.
Troops from other European nations also took part.