Ceasefire holds in eastern Ukraine except for Mariupol region
Comments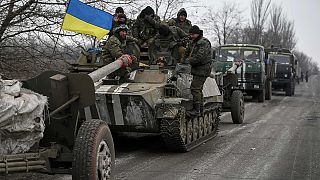 Day two of no casualties for the Ukrainian army as the latest ceasefire enters its 12th day, and Kyiv is pulling its heavy weapons back from the lines hammered out at the Minsk peace talks.
However the fighting is shifting further south and fears are now that the port city of Mariupol will become the next battleground.
"We noticed almost no shelling In the directions of Luhansk, Debaltseve and Donetsk, but in Mariupol and in particular in Shyrokino, 20 kilometres from the city we observed frequent shooting at our positions. There were attempts to storm ATO forces' positions, and in the village of Shyrokino itself," said the Ukrainian Army spokesman Aleksander Motuzianyk.
The Russian-backed rebels were also on the move, but they claimed they had no information about any Ukrainian withdrawal of heavy weapons from the frontline.
"We continue to receive worrying intel of the Ukrainian military reinforcing their positions and regions along the front line. The situation towards Mariupol also remains restless near Shyrokino, where our positions came under fire over the last 24 hours from National Guard positions," said the self-styled Donetsk Peoples Republic spokesman Eduard Basurin.
Few expect anything else but fresh fighting over Mariupol. The only question seems to be when.
"So, the Minsk agreement is more or less being respected, now it's important to understand what will happen at a political level, because there is a high risk that fighting could resume. And that's what people in this area are feeling," says euronews' Sergio Cantone.