Nigeria rocked by twin suicide attacks, Boko Haram blamed
Comments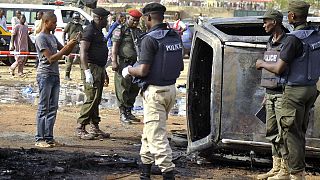 At least 26 people have been killing in suicide attacks in two different parts of Nigeria.
The attacks took place at major bus stations in Potiskum and Kano in the north of the country.
President Goodluck Jonathan has blamed Tuesday's blasts on Islamist militant group Boko Haram.
In the first attack, a suicide bomber rushed onto a bus, set off his device and left 16 people dead.
The second involved two bombers in a car, who killed at least 10 people who were waiting to board buses.
Boko Haram have regularly used suicide bombers as they try to force an Islamic state across large parts of northern Nigeria.