Mexican police kill one, injure dozens at teachers' protest
Comments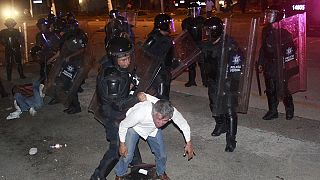 Protesting teachers in Acapulco, Mexico, ran into a determined police line as they cut the main road to the city's airport.
They were demanding better working conditions and justice for disappeared students and teachers, but when a bus was driven into the police line the security forces charged with their batons, killing one protester and injuring dozens.
"It was a legitimate response to protect those taking part in the
protest. If that bus hadn't been controlled, there would have been
more injuries both to policemen and even teachers," said Interior Ministry Commissioner Cabrera Castro.
Over 100 demonstrators were detained.
The teachers and many in Mexico blame local police forces in Guerrero province for colluding with drugs gangs in the disappearance and probable murder of the students and teachers who had been campaigning against corruption before they were kidnapped.
Education Workers Union CETEG has condemned the Acapulco police's handling of the situation.