HSBC bank executives apologise for "unacceptable events"
Comments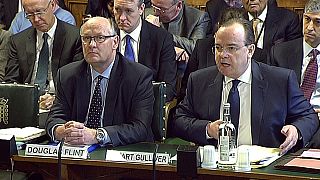 The CEO of scandal-hit bank HSBC has apologised for failings in the operation of its Swiss private branch that allegedly helped clients avoid tax.
Stuart Gulliver was appearing before a Treasury Committee parliamentary hearing in London along with chairman Douglas Flint.
"I'd like to put on the record an apology from both myself and from Douglas for the unacceptable events that took place in the mid-2000's, which is clearly an apology we'd like to make to you all, to our customers, our shareholders, to the public at large," said Gulliver. "It clearly was unacceptable. We very much regret this and it has damaged HSBC's reputation".
HSBC, Europe's biggest bank, has been hit by a series of scandals.
It was fined 1.9 billion dollars two years ago by US authorities for lax controls that allowed Mexican drug cartels to launder money, and 611 million dollars for alleged manipulation of currency markets.
Outside the British parliament demonstrators called for "jail time for tax crime" and accused the government of handing out "get out of jail free" cards to bankers and tax evaders.
HSBC reported a 17 percent drop in annual profits.