Avalanches claim up to a hundred lives in Afghanistan
Comments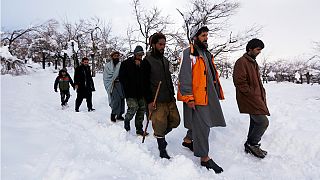 More than 90 people have been killed in northern Afghanistan in the worst avalanches for over 30 years.
With heavy snow forecast to last for another two days officials are warning of a humanitarian crisis.
Many homes have been destroyed in the Panjshir valley region and it is thought many victims may still be buried.
"Three children and one adult are still under the snow here", said Abdul Wali Afgha from the village of Malapsa. "The government has only rescued two people, and three hundred animals are also under the snow as a result of the avalanches."
Although the armed forces are involved in the rescue efforts people on the ground say it is not enough and are calling for the government to do more.
The only positive thing about the snow is the water it brings to sustain crops in summer.
Farming is the most important sector of the Afghan economy. According the the UN Food and Agricultural Organisation about three-quarters of the people live in rural areas.