Leaked documents allege Israel PM and Mossad differ on Iran
Comments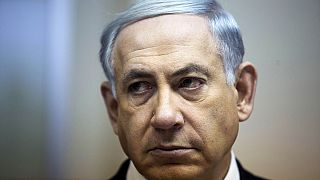 Israeli Prime Minister Benjamin Netanyahu's speech to the United Nations in 2012, in which he warned Iran was a year away from being able to make a nuclear bomb is at odds with his intelligence service.
There is no contradiction whatsoever between the quotes in the story - allegedly from Israeli intelligence - and Prime Minister Netanyahu's declarations on the Iranian nuclear threat.
The apparent difference of opinion has been highlighted in documents leaked to the television channel Al Jazeera.
Showing a sketch of a bomb to UN delegates the Israeli PM called on the world to draw a "clear red line" over Iran's nuclear programme to make it back down.
The Mossad leaked document stated Iran was not performing the activity necessary to produce weapons.
An Israeli official said there was, "no discrepancy" between the accounts.
Last week the US accused Israel of distorting its position in the Iran nuclear talks. That has raised tensions before a controversial visit to America by Netanyahu.