Greece reform plans receive positive response
Comments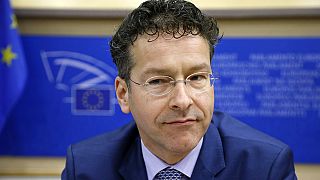 Greece has received a positive response to its economic reform proposals presented to eurozone officials. The plans were promised under the deal to secure a four-month bailout extension.
The head of the eurogroup Jeroen Dijsselbloem said the new Greek government is serious about its reform commitments but it will take time to agree on the details.
"This list is not a new MOU (memorandum of understanding) or a new agreement. This list is just an indication of the kind of reforms that they would like to push, like to replace and also the ones they would like to continue. So it is going to take time to really get into the details and to design a new contract or agreement that will carry us on for four months," said Dijsselbloem.
The eurogroup of finance ministers was due to hold a conference call on Tuesday afternoon to further discuss Greece's proposals.
"I think this agreement (last) Friday and hopefully the progress we will make today and in national parliaments in the course of this week will also contribute (help) to restoring trust between all parties and help to get the recovery of Greece back on track," Dijsselbloem added.
The optimistic soundings helped Greek shares jump, with the main stock index up around seven per cent in late-morning trading.
World shares held near all-time highs on the news that Greece has submitted reform plans.