USA: Almost 9,000 gallons of petrol go up in smoke
Comments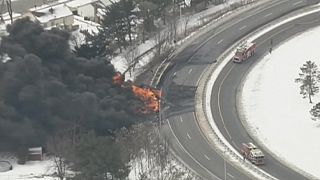 A petrol tanker carrying nearly 9,000 gallons of fuel has crashed and caught fire on a motorway in New Jersey, USA.
The driver managed to escape from the truck, authorities report, and he is not believed to be injured.
Traffic has been diverted from the area and homes evacuated while the blaze is brought under control.