Verdict in Dominique Strauss-Kahn pimping trial due in June
Comments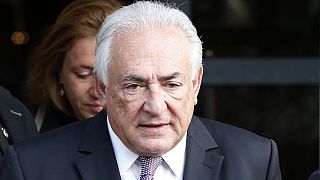 His trial has finished but ex-IMF chief Dominique Strauss-Kahn must wait until June 12, 2015, to find out whether he will be convicted of 'aggravated pimping' over sex parties on both sides of the Atlantic.
DSK has reason to be reassured though after the case in the northern French city of Lille.
Four prostitutes and another plaintiff have dropped their accusations against him and the prosecutor has asked for his acquittal in the so-called 'Carlton affair', named after the hotel in Lille at the centre of a probe into an alleged sex ring stretching to Brussels and Washington.
Investigating magistrates sent the case against Strauss-Kahn to trial despite the objections of the same prosecutor, as is their right under French law.
Thirteen other defendants are also being judged.
The three-week case heard sordid details about the alleged sexual behaviour of Strauss-Kahn who faces up to 10 years in jail if found guilty. He has always denied being the instigator of the sex parties or knowing the women involved were prostitutes.
The 65-year-old was tipped to become French president before a New York hotel chambermaid accused him of sexual assault in 2011. US criminal charges were subsequently dropped and he settled a civil case with the chambermaid, Nafissatou Diallo.