Ukraine: Apparent calm in Debaltseve sees residents return home
Comments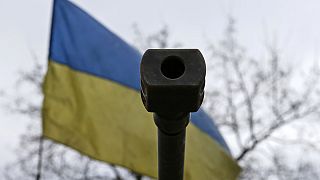 On Monday (February 23), the Ukrainian, Russian, German and French foreign ministers will meet in Paris for talks on the progress of the ceasefire in Ukraine's crisis-torn east.
At least there is no shooting now, but how much fear we have suffered.
In parts of the region, the fragile truce appears to be holding. This seems to be the case in Debaltseve, a strategically-positioned town likely to be on the ministers' agenda in the talks.
To help uphold the terms of the ceasefire, Ukrainian government troops left the town, leaving it under rebel control. It represents one of the military's biggest defeats.
Venturing outside
After days of relentless bombardment and weeks of being caught in the crossfire, residents of Debaltseve have started to venture out of shelters, cellars and other hiding places.
One, Russian-speaking woman, said:
"It's already been a month. We live in the cold, we are hungry, we have no bread, nothing. This is what President Poroshenko has done to us."
Another woman – also speaking Russian – said:
"They drove us into the cellar for a month, in hunger, in the cold, with no water, heat or light."
One man added: "Now they aren't shooting," said this man.
"At least there is no shooting now, but how much fear we have suffered," she replied.
While the black, blue and red flag of the self-proclaimed Donetsk People's Republic has been raised over Debaltseve town hall, in one suburb of the capital Kyiv the mood was altogether different.
Civilians waved the Ukrainian flag and held up blue and yellow balloons as they lined the streets of Semypolky to welcome the returning government troops.