Obama uses anti-terror summit to call for a united front against extremism
Comments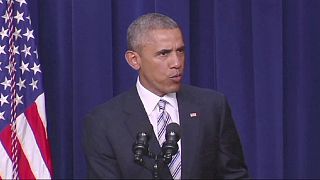 Washington has put itself at the forefront of the fight against violent extremism following Islamist inspired attacks in Canada Australia and Europe.
Refuting the idea that Islam is to blame for the spread of terrorist networks, President Obama has invited international representatives to a summit on exploring how to counter ideologies that radicalise people.
"Just as leaders like myself reject the notion that terrorists like ISIL genuinely represent Islam, Muslim leaders need to do more than just discredit the notion that our nations are determined to suppress Islam, that there is an inherent clash of civilizations. No religion is responsible for terrorism, people are responsible for violence and terrorism," said the president.
"We can do whatever we want militarily to counter the current threat, but if we fail to think generations ahead at how we can prevent that threat from expanding, we will be behind the curve. This is an opportunity to move us ahead of the curve," observed Sarah Sewall, US Under Secretary of State.
The White House may have identified economic and social issues as major factors in the growth of extremism, the summit's success will be measured by actions more than theories.
Reporting for euronews Stefan Grobe concluded:
"The Obama administration is hammering home the point that this fight goes far beyond the immediate threat by ISIL. It's about discrediting voices of hatred and extremism across the board in our cities and communities. This is a task for civil society that will certainly outlast all governments represented here at the summit."