Denmark steps up 'defence against terror'
Comments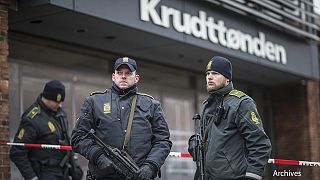 Denmark has unveiled a 130 million euro package to step up police and intelligence services.
It was announced days after deadly shooting attacks in Copenhagen.
The Danish Prime Minister, Helle Thorning-Schmidt, said: "Denmark has enemies. We know this. But they are enemies that we can and must defend ourselves against.
"It is beyond discussion that we need a strong defence against terror," Thorning-Schmidt continued.
A gunman killed two people in shooting attacks on a cafe and a synagogue in Copenhagen at the weekend.
Denmark's stepped-up security and intelligence plan, however, was devised before the attacks in the capital.
It was drawn up in response to the January attacks in Paris, in which Islamist gunmen killed 17 people.
Critics of the new package say it does not address the concerns arising from events in Copenhagen.
"After the events of the weekend, we can see that there are additional challenges around equipment, bullet-proof vests for police officers, training," Lars Lokke Rasmussen, leader of the opposition Liberal Party told journalists.
Five police officers were injured.
Local media reports said that police were sent to hunt down the attacker with ill-fitting bullet-proof jackets and that it took 30 shots to kill him.