New prime minister for South Korea
Comments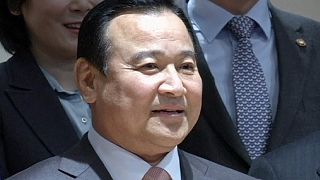 South Korea has a new prime minister.
Parliament approved the appointment of Lee Wan-koo by a narrow margin with 148 for, to 128 against.
The whole process has taken more than eight months.
The first two candidates put forward by President Park Guen-hye ended up pulling out amid controversy over personal issues.
Approval for Lee, albeit marginal, eases the burden on the president. Lee has promised to make the economy his first priority:
"As the prime minister I will dedicate myself to reviving the economy above all. Our current economic situation is very dangerous. Due to global long-term economic stagnation many South Koreans, including people in small and medium-sized businesses and agricultural industries, are facing difficulties."
Those who opposed Lee's appointment considered him the wrong person for the job and they have threatened to block the government's stimulus programme.
The outgoing prime minister, Chung Hong-won, offered to resign soon after the sinking of a ferry last April that killed more than 300 people.