Putin's Hungary visit aims to show it 'pays off' to be friend of Russia - analyst
Comments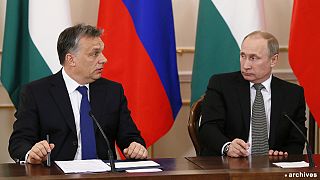 Much has changed since Russian President Vladimir Putin's last visit, in January 2014, to Hungarian Prime Minister Victor Orban in Budapest.
The Ukraine conflict has led to EU sanctions against Russia, which have been stepped up this week.
Orban has said that commercial ties will top the agenda during this week's talks with Putin, scheduled to start on Tuesday (17 February).
Russia provides most of Hungary's gas and a supply deal, which ends this year, needs renewing.
Hungary's Foreign Minister Peter Szijjarto said last week that the country's energy security depends on negotiating with Russia.
Opinions in the Hungarian capital are divided over Putin's visit and relations with Russia.
"The West cannot absorb our industry and our products," one Budapest resident told Euronews. "We are forced to look in another direction, that is the policy of opening up to the East."
But another local said: "I think it clearly has no positive impact on Hungary when Putin comes here and we open up to the East. The future is in the West, and we should be looking to that."
Political analyst Peter Kreko believes the Russian President could have a lot to gain if the Budapest visit goes his way.
"For Putin the most important thing is sending a message to the world that it pays off to be a friend of Russia, and he could also be hoping that Hungary might be the country who will break up the unity of the EU (over Ukraine)," Kreko explained.
Euronews correspondent Attila Magyar reported from Budapest: "The Hungarian Prime Minister's main purpose is to indicate that Russia continues to be a friend. While Putin can show that he has an ally in the European Union."