High stakes as Ukraine ceasefire countdown continues
Comments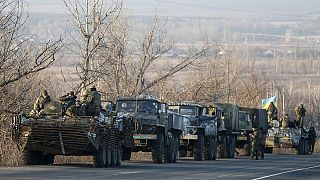 What if the guns don't fall silent at midnight local time in eastern Ukraine?
The stakes could get higher with the United States considering whether to provide arms to the stretched Ukrainian military.
The US and its Western allies accuse Russia of arming the separatists and sending troops to fight with them. The ceasefire deal, Washington claims, has not changed that.
"The Russian military has deployed a large amount of artillery and multiple rocket launcher systems around Debaltseve, where it is shelling Ukrainian positions," State Department spokesperson Jen Psaki told reporters.
"We are confident these are Russian military, not separatist systems… This is clearly not in the spirit of this week's agreement."
This week's deal was sealed by the leaders of Germany and France after 16 hours of all-night talks in Minsk, capital of Belarus, with the Russian and Ukrainian presidents.
But not everyone on the Ukrainian side wants the accord to be implemented.
In Kyiv, as fighters from a volunteer battalion paid their last respects to a comrade killed in the east, their commander who gave his name as Oleksii said:
"We think we should retake all Ukrainian territory so that our sacrifices in this war won't
have been in vain. We don't agree to any ceasefire or any deal. We believe that both
Crimea and the Donbass region should be liberated."
It is not certain that Kyiv's military will be armed by Washington if the ceasefire fails. Russia, for its part, denies supplying the rebels with arms and troops. Nonetheless the success or failure of this weekend's truce could have much broader implications.