Canada: Valentine's Day mass shooting plot foiled say police
Comments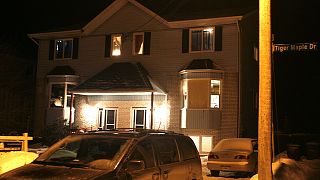 Canadian police say they have foiled an alleged plot to commit a mass shooting on Valentine's Day in a public place.
A woman picked up at Halifax Stanfield International Airport in the East Coast province of Nova Scotia is among three people to have been arrested.
Officers say they found a fourth suspect, a 19-year-old male, dead at a local house.
Media reports suggest alleged plotters were on a chat stream and were obsessed with death, planning to commit suicide after killing as many people as possible.
Nova Scotia Royal Canadian Mounted Police Commanding Officer Brian Brennan would only say:
"I would classify it as a group of individuals that had some beliefs and were willing to carry out violent acts against citizens. But there is nothing in the investigation to classify it as a terrorist act."
Police say the 23-year-old woman detained is from Geneva, Illinois in the United States.
Canada has been on alert since October's deadly attack at its parliament building in Ottawa.