EU Summit: Tsipras agrees to talk to creditors over Greek bailout
Comments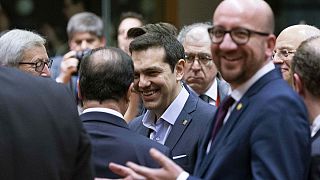 European leaders have expressed caution about a new peace deal for eastern Ukraine as they wrapped up an informal summit in Brussels on Thursday.
Several officials said they were sceptical about whether a new ceasefire will hold after a similar deal last September broke down within days.
Leaders warned that the EU may impose further sanctions on Russia if the plan is not fully implemented.
Meanwhile Greece agreed to talk to its creditors to find a way out of its international bailout.
Greek Prime Minister Alexis Tsipras said preliminary talks could be held on Friday with the so-called troika.
"We disagree with the rules of the tough and tight fiscal discipline, with the Stability Pact. However we are obliged to respect them because they are founding rules of the EU Treaties. I think that this is the crucial compromise, the crucial combination; to respect the basic principles; the principles of democracy and rules," said Tsipras.
European Commission President Jean-Claude Juncker said he believed a deal could be reached.
"As you have heard, the Greek government has said they can agree to seventy percent of the existing programme. We have to see which seventy percent the new Greek government agrees with. And for the thirty percent where there is no agreement we shall have to see what can be done."
Tsipras said his goal was a transition to a new financing programme and that this will be the main issue of the next Eurogroup meeting.
Efi Koutsokosta, our correspondent in Brussels told us:
"The first Summit for Tsipras ended with a temporary truce despite the tensions provoked not by Germany but by his Spanish counterpart. Now the European partners are waiting to see what will happen during the negotiations over the weekend and of course the result of Monday's Eurogroup meeting."