UK closes embassy in Yemen amid civil war fears
Comments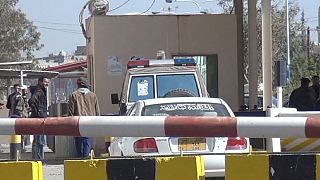 The UK, US and France are closing their embassies in Yemen. The move comes amid the deteriorating security situation and political crisis in the country.
The UK foreign office announced on Wednesday it was suspending all operations of its embassy and, like the US urged its citizens to leave Yemen. There are fears the takeover of the country by the Houthi Shi'ite Muslim militia group could spark an all-out civil war.
The movement, which dissolved parliament last week and seized the presidential palace controls the capital Sanaa setting up checkpoints in the city streets.
The Houthis have called their actions, "a revolution". The militia movement advanced from its northern strongholds to rid the country of corruption and economic peril, it said.
Leaders and Sunni tribesman in the southern and eastern regions of Yemen which the Houthis have not seized are reportedly arming themselves.
UN backed talks between the Houthis and the main political factions collapsed last week.