Hundreds of migrants feared dead in Mediterannean
Comments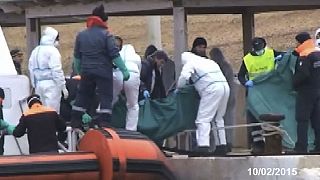 The perilous sea journey across the Mediterannean has reportedly claimed the lives of hundreds of migrants.
The United Nations Refugee agency, which spoke to a handful of survivors said an estimated 300 probably died this week after attempting to reach Italy from Libya.
Nine people were rescued and taken to the Italian island of Lampedusa. They are understood to be the only survivors from two boats. More than 200 are unaccounted for.
Temperatures have plummeted and high seas have been running in the Mediterannean. On Sunday 29 migrants died after suffering from hypothermia.
The deaths have reignited criticism of Italy's decision to stop its search-and-rescue mission due to concerns over costs.
On Wednesday Pope Francis told pilgrims he was "following with concern the news out of Lampedusa."