Germany rejects Greek government calls for Second World War reparations
Comments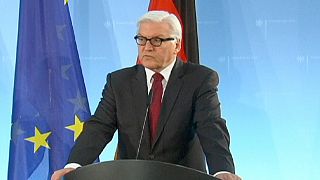 Greek Foreign Minister Nikos Kotzias has taken his government's claim for World War Two reparations directly to Berlin – but the reply from his German counterpart was a firm 'Nein'.
Amid austerity, bailout and debt repayment tensions, grievances over Greece's wartime occupation by the Nazis have resurfaced.
But Frank-Walter Steinmeier was having none of it.
"We Germans are fully aware of our political and moral responsibility for the terrible events between 1941 and 1944 in Greece," he told a joint news conference in Berlin.
"Still, we are firmly convinced that all reparations issues, including forced loans, have been judicially settled once-and-for-all."
Germany denies owing anything more to Greece for World War Two after the 115 million deutsche marks it paid in 1960. But Athens has said it always considered that money to be only an initial payment.